Public Policy Workshop for Journalists in Jaipur

19 journalists representing eight media houses in Rajasthan participated in the Hindi program of the Certificate Course on Public Policy for Journalists (CPPJ) on 24 April 2010 in Jaipur. In partnership with Friedrich Naumann Stiftung für die Freiheit (FNF) the initiative provides journalists with a better understanding of public policy, its formulation and evaluation of its impact on citizens thereby enabling them to better report on important social, political and economic issues. Read More >>
Right to Education in Media
The Right of Children to Free and Compulsory Education Act 2009 (RTE Act) came into force on 1 April 2010. The School Choice Campaign has been directly involved in analysing and giving recommendations to improve the Act and is now providing workable implementation models. Articles on the RTE Act written by our team were published in the Financial Express, Ajay Shah's Blog, Mint, Business Standard, Pragati and the Wall Street Journal. We are working with state governments to help draft Rules to implement the Act. Visit www.righttoeducation.in for details.
Stakeholders discuss RTE Model Rules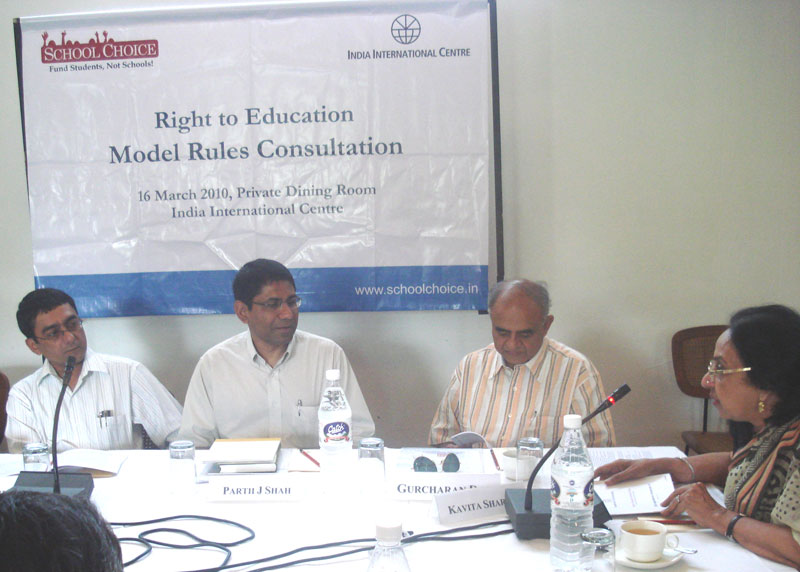 School Choice Campaign in partnership with the India International Centre organized a RTE Model Rules Consultation with key stakeholders and policy makers on 16 March 2010 at IIC, New Delhi. The objective of the consultation was to facilitate fruitful discussion amongst education experts to provide a timely and much needed feedback to the Union Government, which in turn will help State Governments in developing their rules on innovative ideas on the implementation of the Act. Read more >>
Jeevika on the Road
CCS Graduate Japneet Kaur studying at Delhi Institute of Pharmaceutical Sciences and Research helped organise the screening of the documentary 'Third Wheel' produced by Prabodh. Organized on 4 March the screening was attended by 50 students and a few teachers. Access Livelihoods Consultants organized the screenings of 2009 shortlisted Jeevika documentaries in Hyderabad on 21 March. In Kolkata, Jeevika 2009 participant Abhra Aich organized documentary screening on the 23 -24 April.
www.righttoeducation.in launched
CCS launched this portal with an objective to provide a one point resource for all information regarding the Right to Education Act and its implementation. An integral part of the portal is the RTE Coalition, a group of like-minded organizations interested in contributing to make universal elementary education a reality in India. Read more >>
Policy Roundtable for Members of Parliament on Right to Education Model Rules

Organised on 11 March 2010 at the Constitution Club, New Delhi, the program was attended by seven MPs and was chaired by Prof R Govinda, Vice Chancellor, National University of Education Planning and Administration. Read more >>


"The Beautiful Tree" bags 2010 Fisher International Memorial Award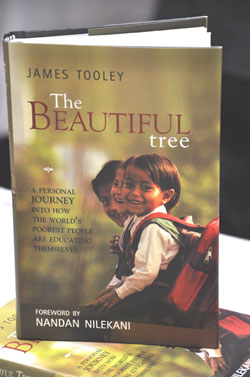 School Choice scholar Prof James Tooley's pathbreaking book The Beautiful Tree, a Cato Institute publication won this year's annual Fisher International Memorial Award. Read More >>
CCS Chintan: Sanjeev Sabhlok & the Freedom Team of India
Sanjeev Sabhlok, the founder of the Freedom Team of India (FTI), which is a forum for policy, strategy, and leadership development to promote freedom in India is a former Indian administrative service officer and the author of the acclaimed book "Breaking Free of Nehru". In his talk he outlined clear strategies required for mobilising people, virtual management of networks and working together as a team. Read More >>
SCC receives 133 contributions from the Rajagopalans Registry
CCS Graduate Shruti Rajagopalan pionneried a whole new way to supporting the Right to Education of Choice for the poor. She and Nandakumar registered for their wedding with School Choice Campaign. We received contributions from 133 of their friends, family and other guests. We thank all the well wishers and the Rajagopalans for their generous support. You can register special events and promote liberty in India. Read more >>
School Choice Campaign presents a model for Implementing the 25% in RTE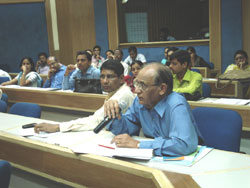 The first Student First! Dialogue Series of 2010 organised on 11 March 2010 at the India Habitat Centre started with an open forum discussion on Implementing the 25% in the RTE Act 2009: Developing a Model. The program saw the active participation of over 50 participants from various sectors- NGOs, educationists, civil society, parliamentarians, economists, corporates, parents and the youth. Read more >>
CCS Team at International Programs
Three team members from CCS got the opportunity to participate in much sought after international programs this quarter. Kush Verma, Sr Campaign Associate, School Choice Campaign attended "No Education: No Freedom, No Opportunity" and Baishali Bomjan, Manager, PR and Communication, attended "Strategic Political Communication" seminars organized by Friedrich Naumann Foundation (FNF) International Academy for Leadership (IAF) in Gummersbach, Germany.
Manoj Mathew, Associate Director, Programs graduated from the Atlas Think Tank MBA program held in Virginia, US. He also attended the Atlas Experience and Heritage Resource Bank meetings in Miami and spent time at the Institute of Human Studies to understand their programs and strategies in advancing liberty amongst young people.