Delhi Government Accepts CCS Demand for a Common Admission Schedule for Schools
Action for School Admission Reforms (ASAR), a helpdesk launched in Delhi by CCS and nurseryadmissions.com in 2008 to help parents and concerned others tackle the undue stress of the chaotic school admission process, has been successful in introducing the Common Admission Schedule (CAS) according to the Delhi Government Order. CAS is one of the five reforms advocated in the Parent's Charter formed by CCS with parental consensus to bring about transparency, accountability, and standardization in the admission process.
Read More >>
Mass Demonstration Demanding Early Implementation of Street Vendors Policy, Jaipur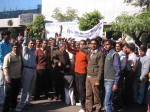 CCS in partnership with the Heritage City Thadi-Thela Union organised a mass demonstration on 22 December in Jaipur. Over 100 street vendors from Sodala, Collectorate Circle and Vaishali Nagar, and representatives of Vidyadhar Bhimsaraiya and Basant gathered at the Jaipur Municipal Corporation headquarters. A group of representatives met the Chief Executive Officer and the Additional Commissioner, Head Quarter to discuss key issues and submitted a memorandum demanding implementation of the street vendor policy in the city. Read More >>
School Choice National Conference 2010, Delhi

130 delegates consisting of educationists, education planners, and civil society representatives, and 17 expert speakers from around the world came together on 18 December at the India Habitat Centre for the second annual School Choice National Conference to discuss critical issues plaguing the Indian education sector, share experiences, and formulate a collective plan to advocate for reforms with the government. The conference titled 'The Right to Education Act: Revolutionary, Redundant, or Regressive?' focused on four broad areas: Right to Education Act: Opportunities and Challenges, Framework of Ideal School Ecosystem, Accountability in Education, and Re-visioning Indian Education. Read More >>
New Publications at CCS

The second issue of STUDENT FIRST! quarterly e-magazine on education policies revolves around the theme of 'Public-Private Partnership in Education (PPP)' which, though not novel in the Indian school education sector, remains an important tool to help in service delivery. But, as with any policy instrument, the devil lies in the details of design and implementation. In this issue, Geeta G Kingdon poses 'Some Policy Questions', Janaki Rajan argues about the role of 'PPPs in Universal Elementary Education', and Baela R Jamil writes on 'PPPs in Pakistan'. We also carry an interview with Soumya Kanti, head of PPP initiatives at Educomp. Read More >>
ViewPoint 9 and 10 were launched at the School Choice National Conference on 18 December at the India Habitat Centre. The former is on 'Skill Vouchers: Global Experiences and Lessons for India' and the latter on 'Reservation in Private Schools under the Right to Education Act: Model for Implementation'. The ViewPoints are jointly co-authored by Parth J Shah, President, Leah Verghese, Sr Associate and Shekhar Mittal, Sr Campaign Associate, CCS. Read More >>
CCS is in the running to be a finalist at the Omidyar and Ashoka Changemakers'
Property Rights Competition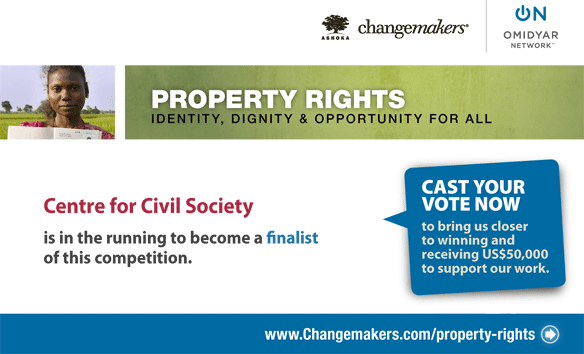 Jeevika Campaign is among the 19 semifinalists out of 211 entries from 47 countries at the Omidyar and Ashoka Changemakers' Property Rights Competition. The most voted 10 semifinalists will be declared as the finalists and will then be evaluated by a distinguished panel of judges. The judges' evaluation will decide the top three winners of the competition, which will be announced on 23 February 2011. Each winner will receive a cash prize of US $50,000 to further their cause. Cast your vote NOW! Read More >>
Colloquium on Indian Liberal Tradition, Faridabad

The Colloquium on Indian Liberal Tradition was organised from 3–5 December 2010 at the Atrium Hotel, Faridabad. 21 liberals from different age groups engaged in intense discussion on the various dimensions of the Indian liberal discourse. From history, economics and social policies, to religion and liberal politics, the Colloquium, with pre-selected readings from great Indian authors, which formed the basis for discussion, challenged participants to examine, refine, and extend their own ideas in the company of inquiring colleagues. The program was a stark reminder that liberal values have been a part of Indian thought for a long time, and even today holds immense relevance to our social, economic and political dilemmas. Photos >>
New faces at CCS

Bhuvana Anand joins the CCS family as Director, Development and Operations, and Sujatha Muthayya as Associate Director, School Choice Campaign. Both started their careers at CCS during its early days, and now return to help CCS build on its successes and navigate new waters.
Special New Year OFFER for CCS Graduates
This special offer is for CCS Graduates, who are interested in participating in the Mont Pelerin Society (MPS) Asia Regional Meeting in India, 10-13 February at the Leela Kempinski, Gurgaon.
CCS is offering a discounted registration fee to 20 graduates of our programs. While the normal registration fee for guests is Rs 31,000, CCS graduates can avail of two packages at a reduced price:
1. Rs 15,000: (Complete Conference: All sessions including all lunches and dinners)
2. Rs 10,000: (11 Feb 9am to 13 Feb 5pm: All sessions excluding opening and closing dinner)
Those interested, please email your choice of offer with your CV for nomination by 5 January 2011 to mpsindia@ccs.in. Read More >>