Citizens Join Hand to Protect the Livelihood of Street Vendors in Jaipur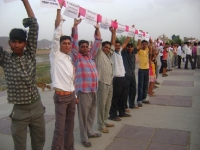 Jeevika Campaign in Jaipur in partnership with Great India Dream Foundation, Pravah Jaipur Initiative, AIESEC, Rajasthan Abhyudaya Sanstha, National Association of Street Vendors of India and Jaipur Mahanagar Thdai Thela Footpath Vyawasayi Union formed a Human Chain at Jal Mahal urging the government to protect the honest livelihood of poor working in the informal sector. Over 500 active citizens and students joined the Human Chain. Read more >>
CCS Celebrates 209th Birthday of Frederic Bastiat

As part of the Atlas Global Initiative, www.azadi.me ran an essay competition dedicated to Bastiat from March to June 2010. Based on Bastiat's life and his article (Candle Maker's Petition) as reading materials for the competition, the assignment was to write an essay detailing the relevance of Bastiat's theory in modern India. The winners of the competition are: Neeraj Kumar Singh (first), Manisha K Jha (second) and Satyam Mishra (third). Read more >>
Colloquium on the Indian Liberal Tradition

Twenty liberals from politics, media, academics, civil society and government came together at the "Colloquium on the Indian Liberal Tradition" held recently in Bangalore from 13-15 June 2010 to discuss and reflect on writings of Indian liberals with an aim to apply this understanding to current challenges and strategise for innovative approaches for the dissemination of liberal ideas today. It was organised in partnership with Friedrich-Naumann-Stiftung für die Freiheit (FNF). Read more >>
26 students from over 24 colleges across India attend ISPP in Bengaluru

I, Society & Public Policy seminar in Bengaluru was organsied from 17 to 20 June 2010 in the pristine and verdant environs of the Fireflies Ashram, located about 30 kilometers from the main city. Student participation was rife during the seminar which saw a number of activities from talks on various issues to field research. Read more >>
Consultation on Right to Education Act: Scope for Muslim
School Choice Campaign (SCC) joined hands with Education Development Centre to put up a two-day consultation on "Right to Education Act: Scope for Muslims" on 18 and 19 May 2010 at the India Islamic Cultural Centre. The first day consultation led to important revelations, which were highlighted in the larger conference on day two. A compilation from the conference with action points has been sent to important and active participants and stakeholders. The program saw the participation of religious leaders of the community, activists and leaders from organizations actively working for the Muslim community. SCC made a presentation on how some sections of the RTE can be used as avenues for activism to bring changes in modal rules under the Act for better opportunities for Muslims.
CCS Graduate Malavika Vyawahare Bags K.N Raj Fellowship to Study Bamboo Policy in North East
Malavika and her team (total four students of Delhi School of Economics) conducted fieldwork in Mizoram and Arunachal Pradesh from 22 May to 15 June 2010 with an objective to decipher the affect of the existing bamboo policy on the livelihood options and commercial prospects of the poor, especially the tribal population in North East India. Read more >>
Matrix for Drafting State Rules under the RTE Act
After several meetings, discussions, consultations on the RTE Act and the Model Rules with Members of Parliament, government officers, researchers, educationists, NGOs, private school associations over the last few months, School Choice Campaign (SCC) has drafted a matrix to assist state governments in the process of drafting Rules under the RTE Act 2009 to fill the lacunae in and elaborate on, the Model Rules provided by the Union Ministry of Human Resource Development. The matrix has been sent to all state governments. Read more >>
CCS to Assist Jaipur Development Authority in Implementing its 2025 Master Plan
Jaipur Development Authority (JDA) has drafted a master plan to be implemented by 2025. CCS studied the plan and submitted its recommendations to the authorities which included provisions for street vending and hawking. After a consultation with the officials of JDA, they have agreed to include our ideas in the master plan. CCS will now be involved in the detail planning of the project.
Researching Reality Internship 2010

The internship program successfully completed its first month on 22 June 2010 with all interns making mid-term presentations of their research findings. 14 interns based in Delhi and four in other States have been working on research projects related to public policy issues in the sectors of education and livelihood. CCS organized a number of sessions with prominent experts and resource persons to assist the interns build their capacity as researchers and critical thinkers. Read more >>
School Vouchers for Girls (SVG) Pilot Enters Second Year of Operation
SVG, the voucher pilot project run by SCC in north-east Delhi has completed its second year distribution of vouchers. A concurrent research evaluation, a study of the parent and the child to look into perceptive and learning level changes after a year of treatment to vouchers will be conducted this year. Comparisons will be made with an equal number of children who did not get any vouchers. The field work for the evaluation has been completed.
Revival of Contract Systems for Street Vendors in Patna Put on Hold
Nidan and CCS led a delegate of vendors who met with the Commissioner of Patna Municipal Corporation (PMC) Mr Sridhar Chiruvello, Principal Secretary, Urban Development Mr Giris Shankar and Deputy Chief Minister, and finally convinced them to stop the revival of contract system for collecting revenue from street vendors in Meena Bazaar, Patna, a provision that PMC had introduced this year after a gap of four years. The delegation also met with the Bihar Urban Development Minister Mr Sushil Modi on 11 May 2010 regarding the policy implementation. CCS made a presentation on national policy to the Deputy Secretary, Urban Development Ministry and other officers. The recommendations will be presented to the Chief Minister in the coming days.
Right to Education Act: A Critique
The RTE Act is a mixed bag and some of its serious flaws need to be addressed, say Parth J Shah and Shreya Agarwal in the May issue of CFO Connect. Read more>>
A Comparative Analysis of Teachers and Para Teachers in India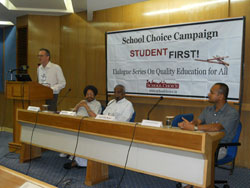 As part of the Student First! Dialogue Series, an open forum discussion on "Teachers and Para-teachers: Professionalism and Performance" was organised on 5 May 2010 at the India Habitat Centre. The panelists of the evening were Mr Ram Pal Singh, President, All India Primary Teachers' Federation (AIPTF), Mr Ajit Singh, Director, Professional Development Projects, AIPTF and Mr Sudhanshu Shekhar Patra, Ph.D Scholar, National University of Educational Planning and Administration (NEUPA). Read more >>
Conference on 'Economical and Social Growth of Urban Poor'

CCS in partnership with Nidan organized a conference on 1 May 2010 (Labour Day) at the Kailash Community Hall, Bela Road Muzafferpur, Patna which was attended by over 700 workers. The conference was inaugurated by Mrs Vimla Devi Tulsiyayan, Mayor of Muzafferpur. Other speakers at the conference were Mr S P Singh, Education Officer, Central Board of Workers Education and Executive Director of Nidan, Mr Arbind Singh. CCS submitted a draft policy to the mayor for regulation of street vendors in Municipal area of Muzafferpur.
CCS Team member at International Program
Shreya Agarwal, Research Associate participated in the "Strategy Planning" seminar from the 6-18 June 2010 organized by Friedrich Naumann Foundation (FNF) International Academy for Leadership (IAF) in Gummersbach, Germany.