First ìpolicy event held

Our public policy courses for young leaders and journalists, formerly known as I, Society and Public Policy (ISPP) and Certificate Course in Public Policy for Journalists (CPPJ), have now been rechristened ěpolicy. Our first event under the ěpolicy banner was the two-day residential certificate course for Hindi media journalists, held from 11-12 June 2011. The session topics ranged from 'Education: Choice & Competition' to 'Role of Social Media'. Over 20 Hindi media journalists attended the programme with notable media persons such as Shubhranshu Choudhry and Sanjay Jha being guest speakers. See Photos >>
ViewPoint 11 published
Title: Fuel and Fertilizer Subsidies: Instituting Direct Cash Transfers

In 2011, instead of compensating fuel and fertilizer manufacturers for supplying liquefied petroleum gas (LPG), kerosene and fertilizers at below market rates, the government announced a direct transfer of subsidies to below poverty line (BPL) households. This paper recommends design solutions for direct transfers keeping in mind the impact of such a policy on fuel and fertilizer industries and suggests avenues to ensure easy transition. Read More >>
Summer Internship programme begins
Our summer internship programme, Researching Reality remains ever popular with 15 interns and 5 externs joining us this year again for a 6-week long internship. The Researching Reality internship provides young college students and/or graduates with an opportunity to work on research issues of their choice, while getting to work closely with the CCS team. This year we have added a Communicating Reality internship with 5 interns joining the team for a writing and strategic communications engagement with CCS, building on existing CCS ideas and presenting them through op-ed style articles, blog entries, and monographs. Read More >>
School Choice Campaign launches the Joseph P Overton Fellowship in Education Policy

The Joseph P Overton Fellowship is a yearlong programme that provides a dynamic platform to track developments within the education sector in India. Working independently at the state-level, Overton Fellows will focus their research and analyses on the implementation of the Right to Education Act in each of the 29 states across the country. The Fellowship is aimed at motivated young individuals with an interest in policy and advocacy. The Fellows will be selected on the basis of their academic achievements, leadership skills and expressed motivation to work in the policy sphere. Read More >>
Jeevika Campaign organises workshop on Street Vendor Policy for Rajasthan government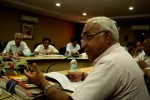 As a result of the mounting pressure on the Rajasthan government with regard to the implementation of street vendor policy, the Directorate of Local Bodies issued an order letter to execute the provisions of the policy with an enforceable deadline. Fully aware of the challenges faced by the municipal bodies in implementing the policy, we promptly approached the Directorate of Local Bodies and proposed a workshop for municipal bodies with expert inputs by the CCS team in Jaipur on how the municipal bodies can overcome the challenges of executing the provisions of the street vendors policy. The workshop was successfully concluded with key Rajasthan government officials in attendance. Read More >>
Azadi Hindi Essay Writing Competition
Under our Azadi initiative, we have recently launched an essay writing competition targeted at our Hindibhashi audience. Seeking entries on the 'Morality of the Market', the competition aims to facilitate an exchange of ideas in the Hindi medium in order to reach out to a larger section of the population. Read More >>
New faces at CCS

Mehjabeen Jagmag, Senior Campaign Associate
Mehjabeen brings to the team her interdisciplinary background in journalism and anthropology. She began her career as a writer for Hindustan Times. At CCS, she works on state level advocacy and coalition building with the School Choice Campaign.
Vidya Sagar Pancholi, Senior Campaign Associate
Vidya Sagar is a graduate in public policy from the University of Manchester. His role as a Senior Campaign Associate at CCS is to manage various projects under School Choice Campaign and to generate new business opportunities for CCS.
Bibhuti Bhardwaj, Field Coordinator
Bibhuti is a graduate of Delhi University and has a Masters degree in political science and rural development. He has over nine years of experience in research, training, education, livelihood & e-governance. He joined the School Choice Team as a Field Coordinator in May this year.
Abhishekh Anand, Campaign Associate
Abhishekh comes to CCS with a recently completed LLB degree. He has joined the School Choice team to work on advocacy and legal research. He is graduate of our Youth programme and has a keen interest in public policy.