A Note for the New Year: From the President's Desk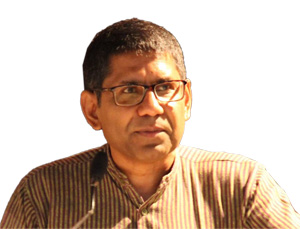 The government will craft an Education Constitution for India in 2017—the New Education Policy (NEP) will be finalised and would set the rules of engagement across school, higher and vocational education. The previous NEP was in 1986! This is once in a lifetime opportunity to influence the education narrative as well as the policy framework. We must work together to make sure that key reform ideas find not just a reference but prominence in this NEP.
We have already done several consultations across the country and some ideas have found consistent resonance. I am listing three of them here; you too should give your vote on top reform ideas on our online survey:
Separate government's role as regulator, financier and provider of education.
Use tools of per-student funding such as Vouchers, Direct Cash Transfers, scholarships to improve efficiency and accountability of public spending and provide more choice to the parents.
Institute learning outcomes-based school recognition and regulation of both government and private schools.
In the next few months, we will conduct focus group discussions to identify the language in which people understand the reform ideas, design opinion polls to ascertain the support for these ideas, and take the ideas and people's support to policy and opinion makers as well as the general and social media.
Let your new year resolution be to engage in the drafting of India's new Education Constitution. Please get in touch at parth@ccs.in or 98111-45667.
May the Right to Education of Choice come true in 2017!
Parth
Budget Private Schools in Focus: School Choice National Conference 2016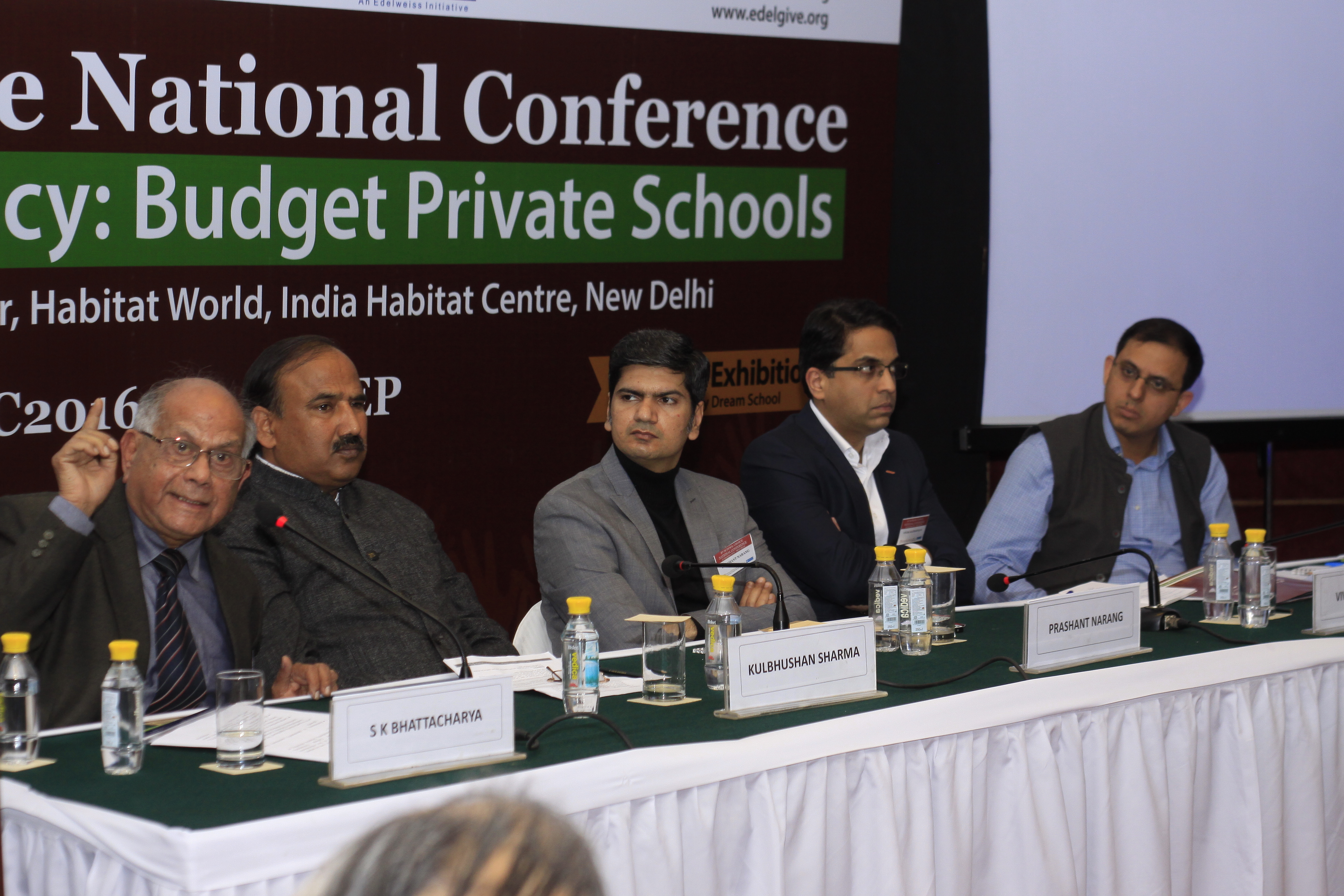 We hosted the 8th edition of the School Choice National Conference (SCNC), our flagship annual conference on education policy, on 3 December in New Delhi. Over 200 prominent educationists, policy-influencers, edupreneurs, students, and civil society leaders participated in the day-long event, leading to a robust dialogue on the key concerns of the budget private school (BPS) sector. The key-note address at the event was delivered by Shri Baijayant 'Jay' Panda, Member of Parliament, Lok Sabha, who was categorical in his affirmation of the key role of budget private schools in improving educational access and delivery:
"Our government should act as contributors and should work in tandem with private players to deliver optimal results. Budget private schools are filling the space and government should work in tandem with the private sector to provide access of quality education to all."
- Baijayant 'Jay' Panda, MP, Lok Sabha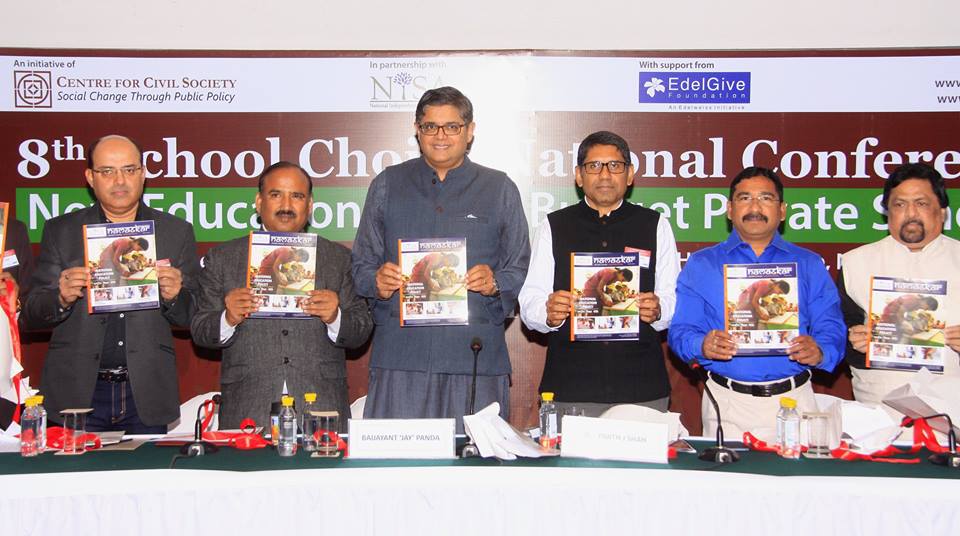 Convened against the backdrop of the proposed New Education Policy and the pivotal role of BPS in expanding access to education amongst the country's poorest, the conference included a series of thematic sessions addressing regulatory challenges, evidence-building and research, and classroom and pedagogical innovations steered by 18 prominent speakers. We launched a microsite on the Report on Budget Private Schools in India, our initiative for furthering a research and evidence-driven dialogue on the role and contributions of BPS in the country. The 2nd edition of NISA Namaskar – the quarterly bulletin of the National Independent Schools Alliance was also released at the conference. In addition, the event showcased student imaginations of their dream school through a nation-wide drawing competition. The winning film entries of Edudoc 2016 were screened at the conference.
The conference received 50 media citations and the event live-streaming drew a viewership of 524. See select media reports here. Find the conference schedule, speaker details and session highlights here. See snapshots of the event here. You can view the conference videos here.
For information on the Report on Budget Private Schools in India, write in to srijan@ccs.in. For more information on SCNC and Edudoc, get in touch with Nitesh at nitesh@ccs.in.
Education in the Spotlight: Edudoc 2016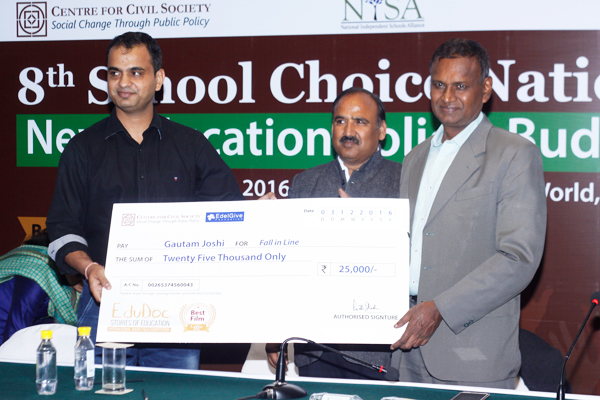 This December we celebrated the winners of Edudoc 2016, our international short film competition that brings alive the stories of education—its challenges, achievements and celebrations, through the medium of cinema every year. Held in partnership with the EdelGive Foundation, Edudoc 2016 drew over 2000 entries from all over the world! Our jury comprising of educationists, journalists and policy practitioners selected the top 5 entries which were screened as part of the 8th School Choice National Conference. The event also occasioned a vibrant dialogue between the audience and the film-makers bringing to light not only the personal journeys of the filmmakers and their films, but also the challenges of and innovative experiments in education across the country.
The winners were felicitated by our Guest of Honour, Shri Udit Raj, MP, Loksabha and received awards, certificates and cash prizes. Fall in Line, a film by Gautam Joshi was declared the best film, and the top winning entry at Edudoc 2016.
Read the film synopses and watch the winning entries here.
Building Journalist Change-makers: iPolicy for Journalists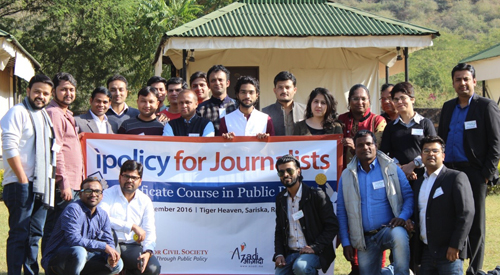 We at CCS recognise the critical role of the media in enabling change – in transforming ideas, in disrupting cultures of silence and mainstreaming alternatives that foster freedom and dignity for the greatest number. The ipolicy for Journalists has been our pioneering initiative to engage with media professionals as key policy influencers and agents of change. The three-day certificate course is a residential program designed to equip journalists with the tools to better understand and critically evaluate the intent and impact of public policies that affect the lives of India's people.
This December, we conducted the ipolicy for Journalists at Sariska, Rajasthan bringing together 17 media professionals from leading Hindi and English news providers. Using interactive learning methods, dynamic games, discussions and documentary-screenings, the course engaged its participants on key concerns of public policy, particularly relating to the proposed New Education Policy, rule of law and good governance.
Building Consensus on the New Education Policy: A Dialogue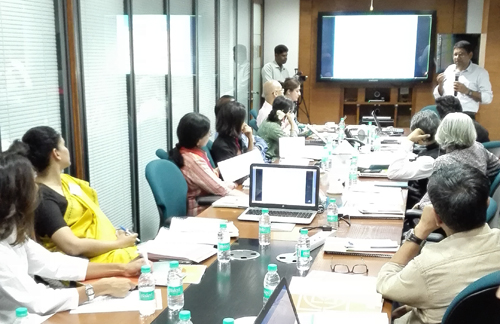 As a part of our on-going work towards building a civil society dialogue on the New Education Policy (NEP) 2016, we been proactively engaged in research, consultations and advocacy for promoting relevant reforms across school, higher and vocational education.
We hosted a roundtable in Bangalore this December to enable a robust exchange of ideas between key policy influencers on the proposed NEP. Organised in partnership with Nishith Desai Associates, the roundtable was attended by 17 academicians, edupreneurs, civil society leaders and lawyers. The discussion saw an enthusiastic exchange of views and perspectives on educational reforms and brought a great deal of new insights for us at CCS. Some of the key points of discussions included the legal status of educational institutions and the existing regulatory schema, a framework for the deregulation of teacher-training, and the efficient delivery and practice of policy ideas.
CCS IN NEWS
We made big news in December with the 8th School Choice National Conference. The event received over 50 media reports from leading English and Hindi print and online news platforms. The Indian Express, India Today, Rashtriya Sahara and Dainik Bhaskar were some of the prominent news dailies that covered the event.


Following the launch of Liberalism in India: Past, Present and Future Festschrift in November, Mint carried an Op-ed series with opinion pieces by five contributing authors of the volume: Parth J Shah, Atanu Dey, Jaithirth Rao, Laveesh Bhandari and JP Narayan.


We were also on television this December! Amit Chandra, Associate Director, CCS participated in the Lok Sabha TV talkshow 'Public Forum' on government expenditure on education as a part of an expert panel along with Urmi Goswami, Assistant Editor, The Economic Times. The panel deliberated on the state of education funding, particularly in the context of the high expenditure on teacher salaries, and the persisting poor quality of teaching and learning in its schools. The panel discussion can be viewed here.


CCS and NISA also made news with the release of our statement on the recent circular issued by Central Board of Secondary Examinations (CBSE) mandating to appoint the heads of affiliated private schools. NISA issued a strong statement against the circular, recognising the move as undermining the essential autonomy of schools. The statement was covered in over 13 leading English and Hindi news platforms including India Today, PTI, ABP News and Network 18. The circular has now been withdrawn by the CBSE.
See other media stories here
Hindol Sengupta, Senior Fellow
Hindol Sengupta is an award-winning writer, journalist, public speaker and social entrepreneur. He has authored several books, and is Editor-at-Large for Fortune India and Aspen columnist on trade and politics in South Asia. Hindol was nominated for the Hayek Prize – the youngest, and only Indian to be nominated for the esteemed award. He is also the youngest recipient of the PSF award for public service.

Moutoshi Pal, Associate, Research
Moutoshi holds a Masters degree in Education from Azim Premji University, Bangalore and Bachelors from Sri Aurobindo International Centre of Education, Pondicherry. Having studied in an alternative school, she is keenly interested in researching innovative educational practices and self-learning methods. She has previously worked at the Steiner school in Bangalore, and in government schools in Chhattisgarh.

Vijay Kumar, Associate, Administration
Vijay, a Delhi University alumnus has over two years of experience in handling office operations and administration. He has previously worked with AIIMS, New Delhi as Facility Manager and with Newgen Software Technologies Ltd. as Administration Executive.
CCS offers challenging opportunities to work in a unique, high-energy and vibrant work environment. Find your fit, and hop on board!
Here are a few of the areas where we're currently short-handed:
Find more positions here
STAY CONNECTED
Signup for CCS Connect for updates about upcoming events at CCS.