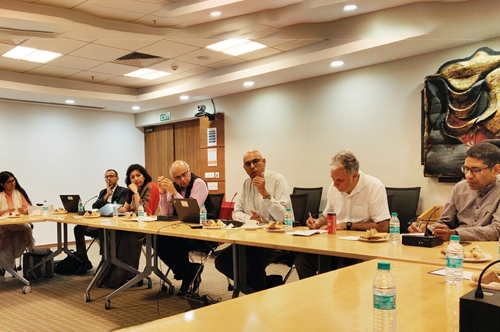 Policy Roundtable on the Separation of roles in Education
On 2nd April, we organised a roundtable 'Reforming K-12 Governance in India: Principles-based Uncoupling and Separation of Functions' at the World Bank premises in New Delhi. The event brought together 18 experts and stakeholders in the education sector, including Dr. Junaid Ahmad, World Bank India Head and Dr. K. P. Krishnan, Secretary, Ministry of Skills among others.
Drawing from our-ongoing research on reforming the education sector, Bhuvana Anand, Policy Expert, and Advisor, Research, Centre for Civil Society, presented our policy and regulatory recommendations, emphasising that governance reforms and the implementation of separation of powers in the education sector are key to bring about any long-term change and the civil society has to be unified around this singular goal.
A Spontaneous Dialogue on Enabling Street Entrepreneurship
On 27th April, Spontaneous Order, our digital publication of liberal commentaries, hosted its fourth Facebook Live Discussion 'Spontaneous Dialogue' on 'Street Vendors Act - Enabling Street Entrepreneurs'. Featuring Indira Unninayar, Advocate, Supreme Court and Delhi High Court; Vivek Kalia, Joint Commissioner, Municipal Corporation of Gurugram and Manoj Mehra, Street Vendor and General Secretary - National Hawkers Federation, the dialogue discussed the enduring challenges in the implementation of the Street Vendors Act 2014, passed by the Central Government.